Mrs.Chouhan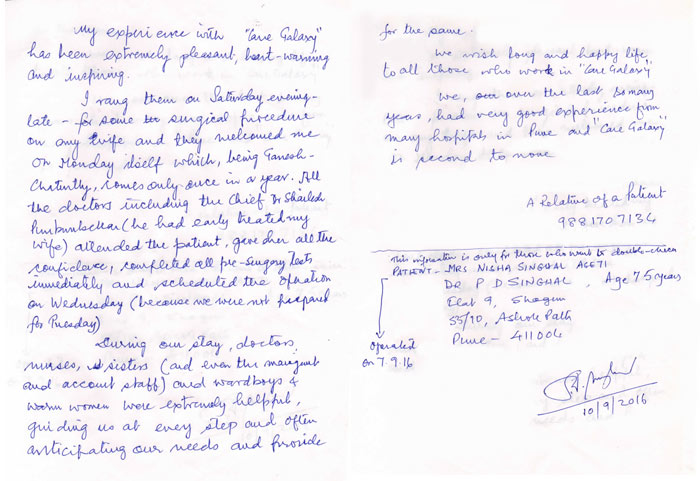 To,
Respected Dr. Shailesh Puntambekar,
My wife was having a problem for the last 1 year. She was suffering from abdominal pain and water coming out of her mouth. Last couple of months she was having excessive bleeding problem. Bleeding problem we thought was normal but stomach pain I thought was due to indigestion. So last year when we got some tests, there were small fibroids. Some people told me that it will dissolve with time it happens so you don't have to worry about it. So, later on whenever there was a stomach pain, we were thinking it was indigestion. But, when the pain continued for 20 days, we went to our family doctor. He said it might be an infection and gave the medicines. For pain stopped for 2-3 days and again started. Then I visit them with this report and asked what exactly the problem is and then come to know that it is related to fibroids only. He asked us to do a proper checkup. He suggested to go in a good hospital where there are at least 100 beds and recommended Dr. Shailesh Puntambekar.

This happened on Monday morning and in the evening we went to Galaxy Care Hospital. There we met Dr. Shailesh Puntambekar, he studied the reports and said we will need to remove my wife's uterus. He left the choice with us when we want to do this. So, we decided to do it on Tuesday.

Tuesday, 8 o'clock we came, afternoon they operated and today (Wednesday) we are going back home. Before operating, Dr. Shailesh Puntambekar told me that this will be a very simple process and not very complicated. I checked on their website also like setup and all those things like Care group, etc. so I was pretty confident that it is a well-experienced set-up by Galaxy Care Hospital.

The best thing was, we saw the surgery happing on the monitor also and my wife was absolutely comfortable. A lot many people interacted at the different point of time since the day she got admitted and it helped in the surgery. They gathered a complete history and then saved that into their system.
We would definitely recommend Galaxy Care Hospital as the efficiency their system conveys is good. We had an excellent experience with the team and Dr. Shailesh Puntambekar.