News about Dr. Shailesh Puntambekar & Galaxy Care Hospital
Galaxy Care Hospital says country's first uterus transplant a success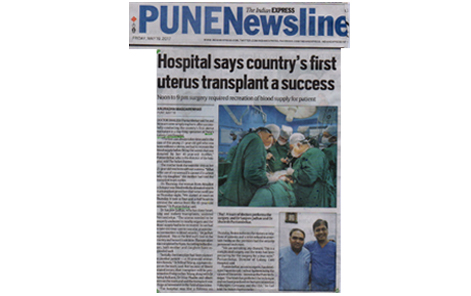 Dr. Shailesh Puntambekar
said he and his team were simply euphoric after successfully conducting the country's first uterus transplant in a day-long operation at Pune's Galaxy Care Hospital.
'The first case always takes time and in the case of this young 21-year-old girl who was born without a uterus, we had to recreate the blood supply before fitting the womb that was donated by her 41-year-old mother," said Dr. Shailesh Puntambekar, who is the director of the Galaxy Care Hospital, told The Indian Express.
The mother took the extreme step as her 21-year-old was born without a uterus. "What is the use of my uterus if it cannot if it cannot help my daughter," the mother had told the transplant team earlier.
On Thursday, the woman from Akkalkot in Solapur was fitted with the donated womb in a transplant procedure that went on till late on Thursday night. "We started at noon on Thursday. It took us four-and-a-half hours to retrieve the uterus from the 41-year-old woman," Dr. Shailesh Puntambekar said.
Dr. Sanjeev Jadhav, who has done heart, lung and kidney transplants, assisted Dr. Puntambekar. "The uterus needed to be properly anchored to nearby organs and the blood supply had to be recreated. So we had to take extreme care to vascular anastomosis (connection to blood vessels)," Dr. Jadhav explained. This is the first such case in the country and hence it took time. The operation was completed by 9 pm. According to the doctors, both mother and daughter have responded well.
"Initially, the transplant had been planned on another patient, a 26-year-old woman from Baroda," Dr. Milind Telang, a Gynaecologist on the team, said. But because of fitness related issues, that transplant will be performed on Friday on her. Telang along with Dr. Pankaj Kulkami, Dr. Uday Phadke and others were on the team and said the transplant was a huge achievement in the field of medicine.
The hospital was like a fortress on Thursday. Restricted entry for visitors or relatives of patients and a strict refusal to entertain media on the premises had the security personnel on its toes. "We are not taking any chances. This is a complicated surgery and the team has been preparing for the surgery for a year now," said Dr. Shailesh Puntambekar.
Dr. Shailesh Puntambekar, an Oncosurgeon, has developed laparoscopic radical hysterectomy for cancer of the cervix- known as the Pune technique. "Our team has perfected the technique and we have practiced on human cadavers in Tubungen, Germany, and the USA," he had told the Indian Express earlier.