News about Dr. Shailesh Puntambekar & Galaxy Care Hospital
India's 2nd Uterus Transplant carried out in Pune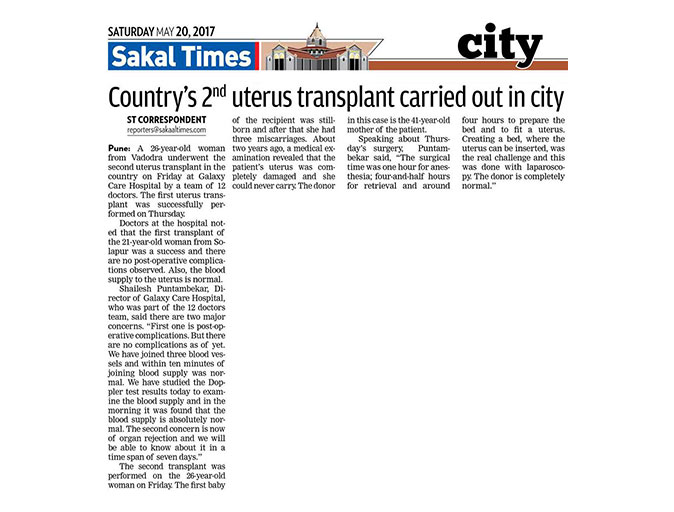 A 26-year-old woman from Vadodra underwent the second uterus transplant on Friday at
Galaxy Care Hospital
by a team of 12 doctors. The first uterus transplant was successfully performed on Thursday.
Doctors at the hospital noted that the first transplant of the 21-year-old woman from Solapur was a success and there are no post-operative complications observed. Also, the blood supply to the uterus is normal.
Dr. Shailesh Puntambekar, Director of Galaxy Care Hospital, who was part of the 12 surgeon's team, said there are two major concerns. "First one is post-operative complications. But there are no complications as of yet. We have joined three blood vessels and within ten minutes of joining blood supply was normal. We have studied the Doppler test results today to examine the blood supply and in the morning it was found that the blood supply is absolutely normal. The second concern is now of organ rejection and we will be able to know about it in a time span of seven days."
The second transplant was performed on the 26-year-old woman on Friday. The first baby of the recipient was still-born and after that she had three miscarriages. About two years ago, a medical examination revealed that the patient's uterus was completely damaged and she could never carry. The donor in this case is the 41-year-old mother of the patient.
Speaking about Thursday's surgery Dr. Shailesh Puntambekar said, "The surgical time was one hour for anesthesia; four-and-half hours for retrieval and around four hours to prepare the bed and to fit a uterus. Creating a bed, where the uterus can be inserted, was the real challenge and this was done with laparoscopy. The donor is completely normal."